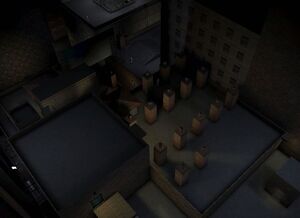 The Warehouse District is an NSF-controlled part of Hell's Kitchen, New York City appearing in Deus Ex. It can only be visited on JC Denton's first trip to Hell's Kitchen.
The warehouse district is located behind the Osgood and Sons Warehouse in Hell's Kitchen. It consists of three multiple-story apartment buildings leading to another NSF-controlled Osgood and Sons Warehouse. The rooftops are covered by NSF terrorists carrying Sniper Rifles, and the alleys below are trapped with LAMs, Laser Tripwires and Turrets. Going over the buildings is less dangerous and gives the player several items, but the alleys allow a silent route into the Warehouse.
Ad blocker interference detected!
Wikia is a free-to-use site that makes money from advertising. We have a modified experience for viewers using ad blockers

Wikia is not accessible if you've made further modifications. Remove the custom ad blocker rule(s) and the page will load as expected.