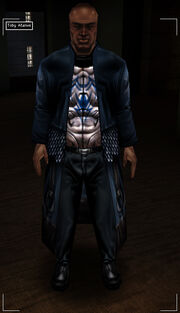 Toby Atanwe is a high-ranking member of the Illuminati in Deus Ex. He is Morgan Everett's messenger and bodyguard.
Background
Edit
He is one of Morgan Everett's only means of physically communicating with the outside world, as he is bound to his home at all times, due to Majestic 12's control over Paris. Toby will meet JC at a metro station near the Cathedrale de Payens, where he will knock JC unconscious and wake him in Everett's top-secret home. He does not appear again after this. If Jock is killed in Area 51 by the bomb the fake mechanic put in his helicopter, then Everett consoles JC by telling him that he has ordered Atanwe to kill the mechanic.
He can be killed by JC in Everett's residence.
Characters in Deus Ex
Protagonist
UNATCO
Majestic 12
Resistance

NSF
Silhouette
X-51
Illuminati
Other

Minor characters

New York City
Hong Kong
Paris
Other
Ad blocker interference detected!
Wikia is a free-to-use site that makes money from advertising. We have a modified experience for viewers using ad blockers

Wikia is not accessible if you've made further modifications. Remove the custom ad blocker rule(s) and the page will load as expected.