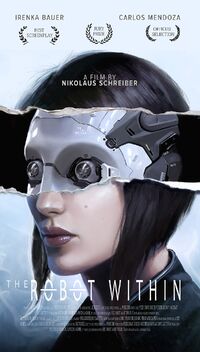 The Robot Within is a 2029 film starring Irenka Bauer and Carlos Mendoza, and directed by Nikolaus Schreiber. The film posters can be seen throughout Prague in Deus Ex: Mankind Divided.
The film premiered at an unnamed festival as part of the Official Selection, where it won the top jury prize for the best screenplay.
The female character on the movie poster resembles Motoko Kusanagi, the cyborg heroine of the 1995 classic cyberpunk anime Ghost in the Shell. The anime also takes place in 2029 - the same year as Deus Ex: Mankind Divided.
Ad blocker interference detected!
Wikia is a free-to-use site that makes money from advertising. We have a modified experience for viewers using ad blockers

Wikia is not accessible if you've made further modifications. Remove the custom ad blocker rule(s) and the page will load as expected.