This article is about the issues in Mankind Divided. For the newspapers in Human Revolution, see The Picus Daily Standard (DXHR).
The Picus Daily Standard is a newspaper published by the Picus Group, and appearing in Deus Ex: Mankind Divided.
Transcripts
Edit
Dvali Case Mistrial
Edit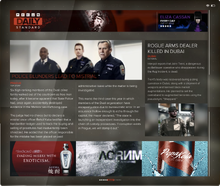 This issue can be found in Václav Koller's office in his bookshop.
Police Blunders Lead to Mistrial in Dvali CaseEdit
PRAGUE
TOP STORY
Six high-ranking members of the Dvali crime family walked out of the courtroom as free men today, after it became apparent that State Police had, once again, accidentally destroyed evidence in the Melikov sex-trafficking case.
The judge had no choice but to declare a mistrial once officer Řehoř Kába testified that a handwritten ledger used to track the buying and selling of prostitutes had inadvertently been shredded. He added that the officer responsible for the mistake had been placed on paid administrative leave while the matter is being investigated.
This marks the third case this year in which members of the Dvali organization have escaped justice due to bureaucratic error. In an assurance hollow enough to echo through the capitol, the Mayor declared, "The state is launching an independent investigation into the chain of custody procedures. If corruption exists in Prague, we will stamp it out."
Rogue Arms Dealer Killed in DubaiEdit
DUBAI
EDITORIAL
Interpol reports that John Trent, a dangerous ex-Belltower operative who disappeared during the Aug Incident, is dead.
Trent's body was recovered during a sting operation in Dubai, along with a shipment of weapons and banned black-market augmentations. He planned to sell the contraband to augmented terrorists using the pseudonym, "Sheppard".
Růžička Station bombing
Edit
Terrorists Bomb Ruzicka Train StationEdit
PRAGUE
TOP STORY
A series of coordinated bomb blasts tore through Ruzicka Station yesterday morning, killing dozens of travelers an renewing fears or large-scale terrorist mayhem against the city. Rail travel to Prague is being rerouted, while forensic investigators comb the debris for answers.
This morning, it remained unclear who is responsible. But given that two similar bombings targeted lawmakers and destroyed a police precinct earlier in the year, this latest attack suggests that augmented terrorists -- upset over Prague's model augmentation licensing and relocation programs -- may be responsible.
"Obviously the world is watching Prague," State Police spokesman Alexej Volner told reporters. "And that is why we are working hard to bring this wave of augmented terror to an end, Even with Interpol aiding in our investigation, I am confident our people can bring swift justice to those responsible."
Hackers Publish Stolen EmailsEdit
WASHINGTON D.C.
EDITORIAL
Claiming to have "proof" that the International Monetary Fund "holds the poorest countries at economic gunpoint on behalf of the world's elite," Juggernaut Collective hackers released dozens of emails stolen during last month's cyber-attack. Many of the emails we read, however, seemed to be reminders to keep staff refrigerators clean.
Global Climate Summit / Augmented Games
Edit
China Under Fire From ScientistsEdit
CAMBIODIA
TOP STORY
The scientific community is criticizing the Chinese government's decision to opt out of the Global Climate Summit (GCS) in Phnom Penh, Cambodia. China is now the sixth country to forego representation at the Summit in order to attend the Safe Harbour Convention.
Dr. Pilar Teran, keynote speaker for the GCS and a trailblazer in geoengineering stated, "The Human Restoration Act will affect such a small portion of the global population. But what's happening to the Earth right now impacts us all."
Following the eruption of the Vilama Caldera in 2016, Dr. Teran spearheaded the drive for radical measures to prevent climate change in Bolivia. "The increase in earthquakes, the extinction of honeybees, the decrease in biodiversity... The devastation brought by rising water levels in Cambodia can be witnessed first-hand, if only representatives would show up at the Summit!"
L.A. Braces for Augmented GamesEdit
LOS ANGELES
EDITORIAL
The city of Los Angeles will increase police presence by 50% when the Augmented Game Championships kick off in mid-February. "What can I say? People love sports - augmented athletes notwithstanding," Mayor Javier Cruz declared. "Barring any natural disasters, my plan will keep everyone safe."
References
Edit