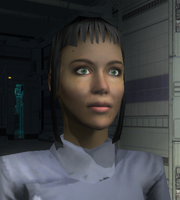 TARSUS ACADEMIES: SECURITY OPERATIONS RESIDENCY
Personnel Profile: Dr. Leila Nassif
Position: Coordinator, Seattle Advanced Training Facility
Status: Active
Born in poverty in Cairo, at age 6 Leila Nassif was accepted into a local Tarsus Elementary program on a need-based scholarship. She thrived under the Tarsus program, and over the next 22 years completed an education that culminated in an MS degree in Administrative Science and a medical degree from Seville Medical Center, with certifications in biomodification and psychology. After four years as assistant administrator of the Quito Reconstructive Therapy Center, she was offered her current position.
Despite her youth, Dr. Nassif has shown herself to be fully qualified for her position. Energetic, personable and highly empathic, Dr. Nassif has earned the loyalty and affection of her students. Having herself benefited extensively from Tarsus-backed scholarship programs, she can closely identify with the experiences of her residents. Her deep and abiding loyalty to the underlying principles of Tarsus ensure that she will carry out her mission in the SOR with objectivity and efficiency.
Ad blocker interference detected!
Wikia is a free-to-use site that makes money from advertising. We have a modified experience for viewers using ad blockers

Wikia is not accessible if you've made further modifications. Remove the custom ad blocker rule(s) and the page will load as expected.