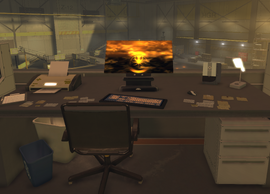 The TYM hangar computer is a computer appearing in Deus Ex: Human Revolution. It is located in the hangar of Tai Yong Medical, Hengsha. The computer is unlocked so no login details are required.
Madam Zhao's Itinerary
Edit
FROM: Zhang LiLi
TO: Kyle Sadar
Kyle, here is Madam Zhao's travel itinerary for the remainder of the week. Please be sure to stock plenty of champagne and those bon-bons from Brugges that she loves so much.
LiLi
ZHAO YUN RU: TRAVEL ITINERARY
Tuesday: Singapore – Departure 0800; return 1730 (2 hour meeting: HD)
Thursday: Hong Kong – Departure 1000; return 1600 (2 hour meeting: BP)
Friday: Shanghai – Departure 1200; return 2100 (dinner with Chairman T)