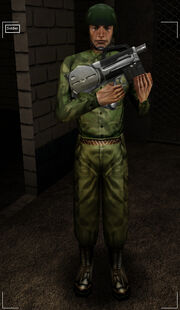 A
Soldier
is both a member of an armed force and a resident of the area they serve (In this case, specifically the
United States
). Although Soldiers usually serve their government,
Bob Page
, through his various connections, has somehow managed to privately control dozens of US soldiers; most of these are stationed in the
Brooklyn Naval Shipyard
, though few actually know what is going on inside the Submarine Pen. Page prefers to use his own
forces
, as is seen under
UNATCO HQ
,
Paris
, and
Area 51
, but he likely positioned soldiers at the Shipyard to make the operation less conspicuous. A Marine,
Vinny
, can be found in
Hell's Kitchen
on the players third visit.
Not to be confused with:
Ad blocker interference detected!
Wikia is a free-to-use site that makes money from advertising. We have a modified experience for viewers using ad blockers

Wikia is not accessible if you've made further modifications. Remove the custom ad blocker rule(s) and the page will load as expected.