Stub

This article is a

stub

, an article too short to provide more than rudimentary information about a subject. You can help the

Deus Ex Wiki

by

expanding it

.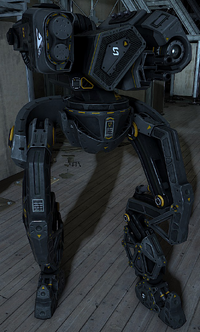 The SB-71 bot is a bipedal security and patrol bot manufactured by Steiner-Bisley GmbH and appears in Deus Ex: Mankind Divided.
Characteristics
Edit
The SB-71 is used by many organizations, including Prague police, Tarvos Security Services, and the Dvali crime family, as a way to patrol areas and, when necessary, to take out targets. It has a turret located slightly to the left of its center frame, near its camera.
It is most likely the precursor to the Page Bravo-3 Peacebringer considering it is the first bot to move around on two legs.
Strategy
Edit
Like other bots, the SB-71 is susceptible to EMP attacks and remote hacking. However, unlike drones, most times there is a security terminal somewhere on the premises that can control them, effectively turning them off or used to clear out enemies.
During Martial Law, you can find several SB-71 bots patrolling inside Palisade Property Bank. They are controlled by a security terminal on the third level.
Ad blocker interference detected!
Wikia is a free-to-use site that makes money from advertising. We have a modified experience for viewers using ad blockers

Wikia is not accessible if you've made further modifications. Remove the custom ad blocker rule(s) and the page will load as expected.