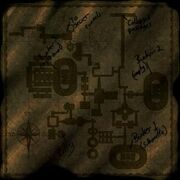 The Catacombs of Paris (French: Les catacombs de Paris) are an underground mass burial site and ancient mine complex located under the Denfert-Rochereau square in Paris, France.
In the early 2050s, the catacombs were utilised by Silhouette to resist the martial law imposed in Paris by Majestic 12 soldiers and bots. The MJ12 agent, Mari Hela, was in charge of the operation to flush out the remaining members of Silhouette, led by Chad Dumier, that had not already been killed or surrendered above ground.
During the events of Deus Ex, JC Denton enters the catacombs to find Chad Dumier in the hope of finding Nicolette DuClare and ultimately Morgan Everett. To acquire Chad Dumier's cooperation, JC Denton had to rescue two members of Silhouette who were being held hostage in bunker #3, which was formerly a French safehouse during the Second World War, and return them to Chad in bunker #1.
The catacombs eventually merge with the Parisian sewer system under the Champs-Élysées, the next location visited in Deus Ex.
Ad blocker interference detected!
Wikia is a free-to-use site that makes money from advertising. We have a modified experience for viewers using ad blockers

Wikia is not accessible if you've made further modifications. Remove the custom ad blocker rule(s) and the page will load as expected.