Monument Station (Czech: U Památníku Nádraží) is a metro station located in Čistá Čtvrť, one of the districts of Prague. The station is part of the Prague Metro system and is one of the landmarks that are marked in the in-game map.
Overview
Edit
"Monument Station, recently deemed a UNESCO heritage site, is the busiest of all Prague Metro stations."
- Description of the landmark
The "monument" refers to the Bolzano monument, which directly faces the station across the Pedestrian Bridge. The exterior of the station features an inscription stating that the monument is dedicated to Bernard Bolzano, the Bohemian mathematician known for the work "The Paradoxes of the Infinite."
The interior of the station contains an entrance to the
Čistá Čtvrť sewers
accessible by the back maintenance room. Quite unusually, the staff areas inside the station are not restricted.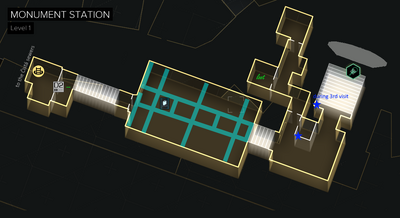 Notable Items
Edit
See also
Edit
Ad blocker interference detected!
Wikia is a free-to-use site that makes money from advertising. We have a modified experience for viewers using ad blockers

Wikia is not accessible if you've made further modifications. Remove the custom ad blocker rule(s) and the page will load as expected.