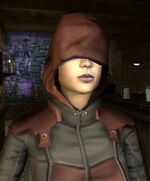 Monica Platz is a German Seeker attached to the Order shard in Trier. She can be seen at the Nine Worlds Tavern, grousing about the scheduled negotiations between Her Holiness and Chad Dumier. Whether or not she is also a member of the Knights Templar is unknown.
Characters in Deus Ex: Invisible War
Protagonist
ApostleCorp
Illuminati

WTO
Order Church

Knights Templar
Minor characters
Ad blocker interference detected!
Wikia is a free-to-use site that makes money from advertising. We have a modified experience for viewers using ad blockers

Wikia is not accessible if you've made further modifications. Remove the custom ad blocker rule(s) and the page will load as expected.