Ad blocker interference detected!
Wikia is a free-to-use site that makes money from advertising. We have a modified experience for viewers using ad blockers

Wikia is not accessible if you've made further modifications. Remove the custom ad blocker rule(s) and the page will load as expected.
"I once thought I could save the world... now look at it"

— Spoilers for Deus Ex: Mankind Divided follow!
For the computer passwords in Deus Ex: Mankind Divided, see Passwords (DXMD).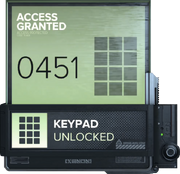 This page contains keycodes for locked doors, security panels, and other electronic locks in
Deus Ex: Mankind Divided
.
Codes can be obtained in several ways:
If you have the keycode for a lock, it will be displayed on-screen and you can simply input the digits and bypass the hacking process. Unlike in Deus Ex: Human Revolution, you do not loose the XP you would get for hacking the device. By inputting the code you receive an XP bonus such as "Open Sesame" or "Entering Without Breaking" (depending on the security level). Note that you do not have to find the code in-game to be able to use it, hence this list.
Expandlist

This list is incomplete. You can help the

Deus Ex Wiki

by

expanding it

.
| Location | Code | Type of Lock (Hacking Level) |
| --- | --- | --- |
| The very first keypad, to which you restore electricity | 0451 * | Security Panel (1) |
| Gate to the storage area (next to elevator) | 4801 | Security Panel (1) |
| Atrium doors | 0682 | Security Panel (1) |
* Entering this code unlocks the A Heated Combination achievement.
Location
Code
Type of Lock (Hacking Level)

Southern Prague

Edit
Zelen Apartments, Jensen's Apartment
Any 4-Digits
Security Panel (1)
Zelen Apartments, #21 (Tars' apartment) restricted areas
9002
Security Panels (1)
Zelen Apartments #22
0310
Security Panel
Zelen Apartments, #23 hidden safe
9002
Safe (3)
Zelen Apartments, storage unit in the courtyard
3556
Security Panel
Svobody Beer's basement (both doors)
1015
Security Panel (4)
Koníčky & Hračky Toys factory storage unit
1998
Storage Unit (3)
Koníčky & Hračky Toys factory, safe inside the storage uit
2489
Safe (4)
Door in electrified alley near Koníčky & Hračky Toys factory (alley behind the Sarif Industries van)
9002
Security Panel (4)
The Time Machine's delivery entrance door
1984
Security Panel (1)
Václav Koller's safe (in the hidden area behind the painting)
5555
Safe (3)
Gated door in sewers near Viznik
6122
Security Panel (2)
Gated sewer door near Paulina
5398
Security Panel (2)
Neon Lab: doors in front and back of turret
0311
Security Panel
Neon Lab: reactor room
7851
Security Panel
Neon Lab: reactor terminal
7851
Security Panel
Gated door in alley near the pawn shop
1984
Security Panel (1)
Radko Perry's safe
0109
Safe (1)
Capek Fountain Station's ticket booth and restrooms
3998
Security Panel (3) and (1)

Church of the MachineGod

Edit
Armory door inside apartment 90
0101
Security Panel (3)
Gate to level 3
0010
Security Panel (2)
Gate to level 4
0011
Security Panel
Apartment 97 (4th level)
1111
Security Panel (4)

Northern Prague

Edit
Right storage unit (Mikael's) at 33 Hlavní Apartments
4227
Storage Unit
Left storage unit at 33 Hlavní Apartments
2913
Storage Unit
33 Hlavní Apartment #201
6864
Security Panel (4)
Tubehouse Electronics
0701
Security Panel (2)
Right storage unit near the manhole entrance to Otar Botkoveli's casino (Otar's storage)
6446
Storage Unit (2)
Left storage unit next to previous (Tech Noir's storage)
9356
Storage Unit (2)
Door to gas filled room near Otar's casino
1363
Security Panel (1)
Safe in Otar Botkoveli's casino
4863
Safe (1)
Left storage unit in a courtyard near TF29 HQ
6354
Storage Unit (4)
Right storage unit in a courtyard near TF29 HQ (Madame Photographe's unit)
5053
Storage Unit (2)
Safe in Madame Photographe's apartment
3608
Safe (5)
Storage unit right next to Staněk's Clock Shop
2469
Storage Unit (5)
Storage unit to the left of the previous (near Staněk's Clock Shop)
5100
Storage Unit (3)
Hemingway's Fine Spirits front door
9410
Security Panel (1)
Kopecky's puppet shop, locked workshop
4465
Security Panel (5)
LIMB clinic entrance
4464
Security Panel (5)
Dai-Taga bar (across from LIMB clinic) second basement door
5622
Security Panel (4)
Locked basement door in Future-Past
3458
Security Panel (5)
Pilgrim Station door next to ticket booth
2548
Security Panel (2)
Pilgrim Station Server Room
9143
Security Panel (4)
Libuse Apartments, right storage unit
5555
Storage Unit (2)
Cigar Lounge basement door
2756
Security Panel (4)
Dvali Apartments #95
0666
Security Panel (3)
Dvali Theater backstage door (on stage's left side)
9651
Security Panel (4)
Door to Samizdat's office in the sewers
5431
Security Panel (3)
Police Storage door
0010
Security Panel
Double doors near pedestrian bridge (behind Police Station)
7326
Security Panel (5)
Registration Office, server room
6788
Security Panel (5)
Ludvik's Lounge locked basement door
3419
Security Panel (2)
Right storage unit near Palisade Bank, in a small courtyard (Ashani/Masaaki's unit)
1293
Security Panel (3)
Left storage unit near Palisade Bank, in a small courtyard (Vlasta's unit)
2565
Security Panel (3)
Aria Argento's safe
2023
Safe
Infirmary safe
4822
Safe (2)
IT Support room
5545
Security Panel (1)
Door to NSN Server Room
7734
Security Panel (2)
Vincent Black's safe
7913
Safe (5)
Palisade Bank garage door
5136
Security Panel (4)
Palisade Bank garage maintenance door
6745
Security Panel (2)
Tomas Romanek's office
0831
Security Panel (1)
Executive Services room
9593
Security Panel (1)
Executive Services room hidden safe
6477
Safe (2)
Executive Safes: A04 (Sheppard's safe)
8132
Keypad (4)
Executive Safes: A08
1305
Keypad (4)
Executive Safes: A09
2357
Keypad (5)
Executive Safes A, Server Room B
7735
Security Panel (2)
Executive Safes A, hidden security room safe
1114
Safe (2)
Executive Safes: B01
6641
Keypad (5)
Executive Safes: B06
1996
Keypad
Executive Safes: B07
0310
Keypad (5)
Executive Safes B, hidden security room safe
1110
Safe (2)
CEO/CTO Office
0211
Security Panel (1)
3rd floor laser grids
5872
Security Panel (2)
IT Services room (3rd floor)
1969
Security Panel (1)
Server Room (with security terminal)
8066
Security Panel (2)
Ticket Booth
0808
Security Panel (1)
| Location | Code | Type of Lock (Hacking Level) |
| --- | --- | --- |
| Safe in Dr. Martine Onziema's housing unit | 9990 | Safe (3) |
| Gated door inside the police storage area (room with the praxis kit) | 6123 | Security Panel (3) |
| Second gated door inside the police station area | 2223 | Security Panel |
| Police gun cage | 0190 | |
| The far right storage unit near the nursery/school | 2046 | Security Panel (2) |
| Moving bridge in The Throat | 3354 | Security Panel (5) |
| RVAC Row, Shower Room (room 400314) | 0347 | Security Panel (1) |
| RVAC Row, 2nd floor Storage Room A | 1174 | Security Panel (4) |
| RVAC Row, 2nd floor Storage Room A's safe | 1433 | Safe (4) |
| RVAC Row, 2nd floor Storage Room B | 0274 | Security Panel |
| RVAC Row, Library (room 350252) | 2104 | Security Panel (1) |
| RVAC Row, 7th floor Storage unit 1 | 1896 | Security Panel (3) |
| RVAC Row, 7th floor Storage unit 2 | 2025 | Security Panel (3) |
| Mini-storage 1 (near turret and elevator to Rucker) | 2544 | Security Panel (2) |
| Mini-storage 2 (near turret and elevator to Rucker) | 6889 | Security Panel (5) |
| Location | Code | Type of Lock (Hacking Level) |
| --- | --- | --- |
| Weapons Storage Room (inside the shooting range) | 8935 | Security Panel (3) |
| Location | Code | Type of Lock (Hacking Level) |
| --- | --- | --- |
| Code to activate the security override switch | 5359 | Security Panel (1) |
| Code to access doors in the reception hall | 1515 | Security Panel (1) |
| Code to access the VIP Room | 2202 | Security Panel (1) |
| Location | Code | Type of Lock (Hacking Level) |
| --- | --- | --- |
| Code to ShadowChild's secret room in her apartment. The lock is behind a painting in the bedroom. | 8222 | (1) |
| Wall keypad in the third-floor apartment opposite the Palisade Blade lobby. The lock opens a secret room with a weapon stash. | 1205 | (3) |
| Palisade Blade, airshaft door in the East corridor on the first floor. | 8153 | (2) |