"I once thought I could save the world... now look at it"

— Spoilers for Deus Ex: Mankind Divided follow!
The Juggernaut Collective is a global hacktivist group dedicated to exposing and fighting corruption. They target the Illuminati in particular, who are often responsible for this corruption. The organization is led by the mysterious hacker known as Janus and has close links to the Gang of Five.
Background
Edit
The Juggernaut Collective originated in the early 2020s when a hacker named "Eli" posted a call-to-arms message on the Darknet inviting those "dis-elushuned with the stranglhold 1 purcentors have on R world" to join him in attacking, exposing, and "spoiling their plots."[1]
The group made its debut on the hacker scene in 2025. During an event sponsored by Page Industries, they hijacked "atmospheric processors" used by a weather artist in Paris, thus trashing the event.[2] Since this brash debut, the Collective has made its way onto the NSA's most wanted list.
Around the same time, "Eli" was replaced on-line by a new nom-de-plume: "Janus".[1]
Under Janus' leadership, the Collective have become increasingly effective. They were responsible for bankrupting two Fortune 500 companies, crashing the Syrian intelligence agency's mainframe and bringing the Seattle traffic grid to a standstill.[3] They have ties with the New Sons of Freedom and help the NSF to avoid drawing the attention of the world's intelligence agencies.
The Collective is severely damaged by the Illuminati in 2027 after one of their members, D-Bar, betrays them.[4] Janus survives the raid and shortly afterwards, he supports Garvin Quinn in his investigation of Belltower Associates' Rifleman Bank Station. At this time, Janus discusses the possibility of recruiting Adam Jensen into the Collective. However, due to his preoccupation with Megan Reed at the time, Janus decides that Jensen is not ready.[5]
By 2029, Jensen has become associated with the group.[6] They manage to slip him on to an international anti-terrorist task force, known as Task Force 29.[7]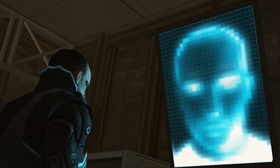 As a group concerned with anonymity, members of the Juggernaut Collective are naturally not publicly known. Apart from their leader, Janus, members of the organization include a 19-year old hacker named D-Bar, Mikhail Kontarsky, Juan Ivanovich Lebedev, Garvin Quinn, Ben Saxon, and Anna Kelso. Saxon helps to recruit Alex Vega to the group who subsequently acts as a go-between for Janus and Adam Jensen.
A juggernaut is a literal or metaphorical force regarded as mercilessly destructive and unstoppable.
The group shares many traits with the real life hacktivist group, Anonymous, such as anonymity and the use of aliases, a sense of righteousness and the aim to expose corruption.
In the server farm room of the Palisade Blade, an email addressed to Masaaki Oshiro lists three hackers, identified as affiliated with the "The Collective", among a list of top hackers at large: Janus, "SWellingTOWN", and "MKOFF"
References
Edit