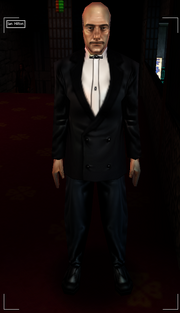 Ian Hilton is the owner of a small restaurant in the Wan Chai Market section of Hong Kong. He is affiliated with the Luminous Path, but he is seen being harassed by a Red Arrow member. When he refuses the thug endorsement, they claim that he will not pass his next inspection, to which end, his restaurant is besieged by rats, to his chagrin and the disgust of at least one of his patrons. JC can ask him about both the Triads, and about Maggie Chow. He sells soy food and soda.
Characters in Deus Ex
Protagonist
UNATCO
Majestic 12
Resistance

NSF
Silhouette
X-51
Illuminati
Other

Minor characters

New York City
Hong Kong
Paris
Other
Ad blocker interference detected!
Wikia is a free-to-use site that makes money from advertising. We have a modified experience for viewers using ad blockers

Wikia is not accessible if you've made further modifications. Remove the custom ad blocker rule(s) and the page will load as expected.