The
Hotel Etana
is an hotel in
Panama City
in the game
Deus Ex: The Fall
.
Background
Edit
The building contains 3 sub areas called The Hotel Etana Lobby, The Hotel Etana Upstairs and The Hotel Etana Roof.
Events in Deus Ex: The Fall
Edit
Ben Saxon
visit the Hotel Etana, near the end of the game, to confront the
WHO investigator
, who is himself investigating
Riezene
, in the penthouse suite. Here the agent admits to Saxon that Riezene is not ready for market yet, and he plans to go public as a whistleblower for the events. Saxon is too late, however, as a
Tyrants
VTOL blows open the window to the suite, and a newly augmented
Sam Duarte
shoots Parker dead, revealing him to not only be alive and working for the Tyrants.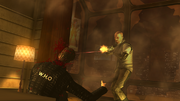 The side quest involves Dr. Camila Cardoso a LIMB international worker who Saxon meet in the LIMB building Downtown which is also where the Etana is located.
The Hotel Etana shares a similar trait to the Nightshades club as they are known around the city as one of the more high class areas it's shown by several pocket secretaries and computers that it's rented out by government officials, diplomats and the aforementioned Camila Cardosa rents out a room there.
Etana means snail in Finnish.
Ad blocker interference detected!
Wikia is a free-to-use site that makes money from advertising. We have a modified experience for viewers using ad blockers

Wikia is not accessible if you've made further modifications. Remove the custom ad blocker rule(s) and the page will load as expected.