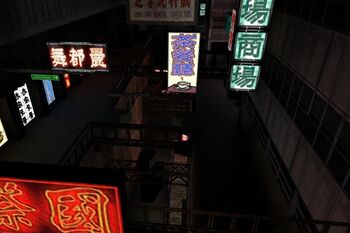 The Hong Kong Canals are a part of Hong Kong, China visited in Deus Ex. Located on the waterfront edge of the city, the Canals are not vital to the game, but exploring them can lead to some interesting characters and locations. It can be accessed at any time the player is in Hong Kong. Due to the large bodies of water, this is one of the only locations in the game where the Swimming skill can prove extremely useful.
Geographically, the area consists of two parallel canals, and a small center one connecting the two. Two small streets are found high above the central canal.
Locations
Edit
Ad blocker interference detected!
Wikia is a free-to-use site that makes money from advertising. We have a modified experience for viewers using ad blockers

Wikia is not accessible if you've made further modifications. Remove the custom ad blocker rule(s) and the page will load as expected.