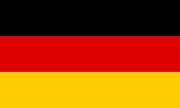 The Federal Republic of Germany or just Germany is a country located in Europe.
Cities visited
Edit
Companies
Edit
Organizations and locations
Edit
Characters from Germany 
Edit
Appearances
Edit
The Illuminati was created in Ingolstadt, Germany. Germany is visited by Alex Denton in Deus Ex: Invisible War, specifically Rauchstadt and Trier. The products of Panzerwerks appear in Deus Ex: Invisible War and this of Steiner Bisley appear in Deus Ex: Human Revolution.
Ad blocker interference detected!
Wikia is a free-to-use site that makes money from advertising. We have a modified experience for viewers using ad blockers

Wikia is not accessible if you've made further modifications. Remove the custom ad blocker rule(s) and the page will load as expected.