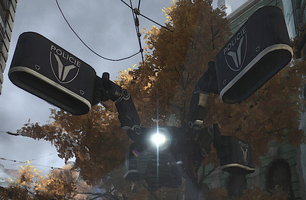 The
Drone
is a type of aerial security
bot
 manufactured by
Steiner-Bisley GmbH
 and appears in
Deus Ex: Mankind Divided
.
Characteristics
Edit
Drones are susceptible to EMP attacks, so EMP ammo and grenades work well against them. They can also be remotely hacked, buying you time to escape or take them out permanently. Like most electronic bots, one can shoot them with several EMP rounds to build up cool down time before they return to their hostile states.
Infobox incomplete

The infobox template in this article or section is missing some data. You can help the

Deus Ex Wiki

by

filling it in

.
Ad blocker interference detected!
Wikia is a free-to-use site that makes money from advertising. We have a modified experience for viewers using ad blockers

Wikia is not accessible if you've made further modifications. Remove the custom ad blocker rule(s) and the page will load as expected.