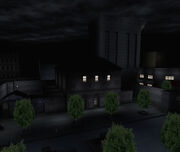 The Denfert-Rochereau square is a street in Paris, and a location visited in Deus Ex. Jock brings the player here after meeting with Stanton Dowd in his Family Crypt. MJ12 has a strong enough presence to operate openly in Europe; a curfew is in effect; both Commandos and Military bots can be seen patrolling the streets, looking out for anyone outside at night. It is the first area visited in Paris. It's modeled (although not closely resembling, except the Catacombs entrance) after the real Place Denfert-Rochereau in Paris.

Locations
Edit
Ad blocker interference detected!
Wikia is a free-to-use site that makes money from advertising. We have a modified experience for viewers using ad blockers

Wikia is not accessible if you've made further modifications. Remove the custom ad blocker rule(s) and the page will load as expected.