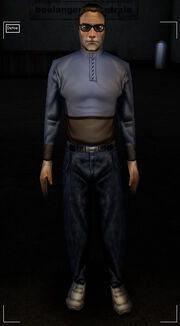 Defoe is a black market arms dealer in the subway station under
Denfert-Rochereau
square,
Paris
. He lives in an apartment near Champs-Élysées, in building 11, as stated by several civilians who think he's out of town.
The first time JC Denton meets him, he is selling 3 rockets for cr5250 (5250 credits), 3 LAMs for cr6750, and a recoil weapon mod for cr1200. If JC asks why his prices are so extreme, he will offer him a 66% discount for killing 2 MJ12 Troopers and 1 MJ12 Commando who currently guard the subway (although in the GOTY Edition there are only 2 troopers, killing them will still get JC the discount). A security bot patrols the subway, but JC does not need to neutralize it to get the discount.
Characters in Deus Ex
Protagonist
UNATCO
Majestic 12
Resistance

NSF
Silhouette
X-51
Illuminati
Other

Minor characters

New York City
Hong Kong
Paris
Other
Ad blocker interference detected!
Wikia is a free-to-use site that makes money from advertising. We have a modified experience for viewers using ad blockers

Wikia is not accessible if you've made further modifications. Remove the custom ad blocker rule(s) and the page will load as expected.