Ad blocker interference detected!
Wikia is a free-to-use site that makes money from advertising. We have a modified experience for viewers using ad blockers

Wikia is not accessible if you've made further modifications. Remove the custom ad blocker rule(s) and the page will load as expected.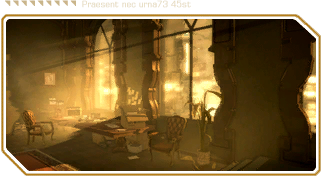 The
Chiron Building
is an apartment building in
Detroit
and the residence of
Adam Jensen
in
Deus Ex: Human Revolution
.
Despite the fact that Chiron offers "Executive Apartments" "For Better Luxury Living", Adam can't seem to get his replacement mirror for the one he smashed after his surgery. If you read the e-mail on the front desk terminal, you'll find out that the replacement mirror has been sitting in a warehouse for four weeks despite manager Sherri Ter Horst's insistence that it's still on backorder. There is also an e-mail indicating that Sarif Industries rents out an entire section of the building, at a premium, for its employees.
In Greek mythology, Chiron was considered to be the superlative centaur - intelligent, civilized, and kind. He had a unique lineage and as a child, was taught by the sun god Apollo.
The actions of the building's resident, Adam Jensen, might be interpreted as having parallels with the myths about Chiron.