Bob Page's office
makes a brief appearance in
Deus Ex: Human Revolution
. It belongs to
Bob Page
, a member of the
Illuminati
. It is located in a building associated with
Page Industries
in
Hong Kong
.
In 2027, Page participates in an Illuminati conference from this office.
Appearance
Edit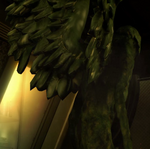 The room appears to be on an upper floor of a skyscraper, based on the view from the window. The window itself doubles as a computer monitor, with a holographic keyboard in front of it being used to input information.
A statue of Icarus is located in the office; a reference to Page's interest in Greek mythology and to the AI of the same name that he creates.
References
Edit
Ad blocker interference detected!
Wikia is a free-to-use site that makes money from advertising. We have a modified experience for viewers using ad blockers

Wikia is not accessible if you've made further modifications. Remove the custom ad blocker rule(s) and the page will load as expected.