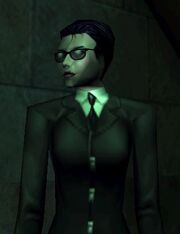 Adept 34501 is a Woman in Black appearing in Deus Ex. She is a Third Rank member of the "Order of the Night Sky", a division of Majestic 12.[1]
Adept 34501 is positioned at Cathedrale de Payens in Paris. Majestic 12 has given her the task of overseeing the cathedral and to keep a record of the people that enter and leave it. This is in the hope that MJ12 "might have the benefit" of this knowledge. She is situated in a room at the back of the cathedral, in which her testament can also be found. This testament reveals that her birth name was taken from her by Majestic 12 and replaced with a generic string of numbers. Adept 34501 does not appear to be unhappy about this stripping of individuality. In fact, she seems to welcome it.[1] However, this may be as a result of her psychological conditioning as she is a physiopharmaceutically augmented agent.
During her observations of the cathedral, Adept 34501 notices Gunther Hermann mourning over the death of Anna Navarre. She admits that she feels pity for Hermann, and states that this will prevent her from advancing above the Third Rank of her order.
As a default enemy, she will attack JC with a sawed-off shotgun on sight, and will explode if killed.
A datacube from MJ12 addressed to her gives codes to several different security measures in the cathedral.
References
Edit
Characters in Deus Ex
Protagonist
UNATCO
Majestic 12
Resistance

NSF
Silhouette
X-51
Illuminati
Other

Minor characters

New York City
Hong Kong
Paris
Other
Ad blocker interference detected!
Wikia is a free-to-use site that makes money from advertising. We have a modified experience for viewers using ad blockers

Wikia is not accessible if you've made further modifications. Remove the custom ad blocker rule(s) and the page will load as expected.