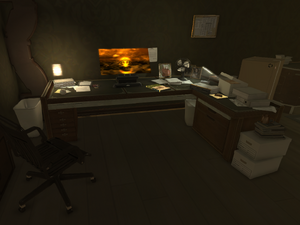 Adam Jensen's computer
is a computer appearing in
Deus Ex: Human Revolution
. It belongs to
Adam Jensen
and is located in
his apartment
in the
Chiron Building
. The computer is unlocked so no login details are needed.
FROM: Sherri.Horst@chiron-building.net
TO: Adam.Jensen@si.det.usa
Mister Jensen,
In respect to your last "reminder" to have the mirror in your bedroom replaced, may I remind you, once again, that the item is on backorder, the situation is out of our hands, and no amount of pestering will make it arrive any sooner.
And while on the subject, we are still unclear as to how precisely this mirror came to be damaged; perhaps you can enlighten us?
Thank you.
RE: your dogEdit
FROM: dgonzalez@SI.corp.det
TO: Adam.Jensen@si.det.usa
Adam... i'm so so sorry.
When megan died nobody knew what to do with Kubrick, so I took him in.
But I couldn't keep him, and nobody knew if you'd wake up, so...didn't know what else to do.
I'm really sorry, He was a sweet dog.
Diane
Welcome homeEdit
FROM: amargoulis@SI.corp.det
TO: Adam.Jensen@si.det.usa
Hello, Adam.
This just a quick note to welcome you to your new apartment, on behalf of Sarif Industries.
If you need anything, or something is not satisfactory, please do not hesitate to let me know, and I will pass it on to the building management.
You will notice there is a hidey-hole of sorts built into the wall. The code for this is 5375.
If your key is lost or damaged, I have a backup. Mr. Sarif does also, but try to reach me first.
The lease is for a year and has been prepaid in full. You shouldn't receive any questions about rent, but if you do, please feel free to refer them to me.
I wish you many happy years in your new home.
Athene Margoulis
Sarif Industries