A personal invitation to AlexD, from Tarsus Academies is a letter seen in the manual of Deus Ex: Invisible War to put in place the situation to the player before they begin to play.
Transcript
Edit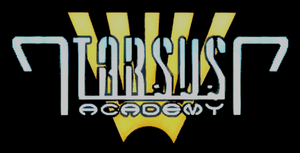 Greetings, Alex. As one of the most outstanding graduates of the Tarsus Academies' primary and secondary school systems, you have been selected to receive a full scholarship to our Security Operations Residency program.
The Tarsus Security Operations Residency is an intensive three-year program of training in leadership, technology, special operations, counterespionage and creative problem solving. As a Tarsus SOR resident you will receive training and instruction from field-grade military officers and strategists, international prize-winning scientists, and pre-eminent experts in all fields. We wish we could tell you just a few of the SOR guest faculty members, but for reasons of personal and corporate security, the list must remain confidential until you confirm your enrollment.
Fewer than a dozen Tarsus graduates worldwide have been invited to participate in our inaugural residency. You, Alex, are one of them. As an SOR resident you will be housed comfortably in your own apartment in our New Chicago training facility located in the elite WTO enclave. Tuition, instructional materials (including your own unrestricted data hub access and holoterminal), comprehensive medical, room and board are all fully paid by Tarsus Academies. In addition, you will receive a generous monthly living stipend. Finally, you will receive free medical screening and pre-operative prep for the very latest in field op biomodification. Residents who successfully complete the initial phase of training will receive a full suite of biomodifications and extensive training in their use.
Tarsus is willing to go to all this expense because we want to take the Tarsus Comprehensive Educational Doctrine® to its logical conclusion.
Our trainees have already been guaranteed premium assignments at IMPORTANT DOSSIERS top corporations, because they are the very best going in, and will be even better coming out. We trust that you, Alex, will be among them.
Please discuss this opportunity with your loved ones and reply with your acceptance within 30 days to: TARSUS.SOR.INVITE. In the meantime, your further questions are welcome, but confidentiality restrictions may apply until acceptance is confirmed.
Ad blocker interference detected!
Wikia is a free-to-use site that makes money from advertising. We have a modified experience for viewers using ad blockers

Wikia is not accessible if you've made further modifications. Remove the custom ad blocker rule(s) and the page will load as expected.